18 Apr
This is a Sponsored post written by me on behalf of Scotts Miracle-Gro for SocialSpark. All opinions are 100% mine.
I absolutely love the look of mulch in a yard or garden. It adds such a finished and polished look to home and business landscaping, don't you agree?
Every spring my in laws hold a "mulching party". They call it party so their kids show up, but really it used to be known as a grooling task of applying mulch to the yard. Regardless of the time and sweat that was put into shoveling and spreading mulch, the end result is always gorgeous. But besides be cosmetically appealing, mulch is actually incredibly healthy for your garden especially when using an all natural select brand like Scotts Nature Scapes mulch. It effectively and naturally prevents weeds, conserves soil moisture and moderates soil temperature.
I frequently post updates we do to our backyard. Recently, we finally added our curbing around out grass:

Now that we have the hardscaping done, it's time to start our sustainable gardening around our edges. This spring, we are gathering our gardening supplies and selecting our mulch. Like last year, we will be planting basil again to deter flies naturally- but we are going to also try spearmint plants as we have heard that also deters those annoying white flies that hover over grass. We will be adding some TLC to our new Sissoo trees with Scotts Mulch, and hopefully we can find some nice flower plants to attract butterflies so our girls can have some fun. Finally, we are going to fill in some bare spots in our retaining wall planter with American Agave plants. Hopefully these combinations bring some color to our backyard. The desert scene of Arizona can be so neutral! Adding our Scotts Nature Scapes Mulch is going to polish off the look perfectly. I love that Scotts Nature Scapes mulch comes in a variety of colors. Black-

Red-


or Deep Forest Brown-


Each is rich in color and offer the same protection to your garden. Scotts makes it easy to add mulch to your yard or garden with their Mulch Calculator tool.
I do have a special announcement for my Florida readers as well. Scotts offers a local 100% Florida grown mulch- Scotts Florida Select Natural Eucalyptus Mulch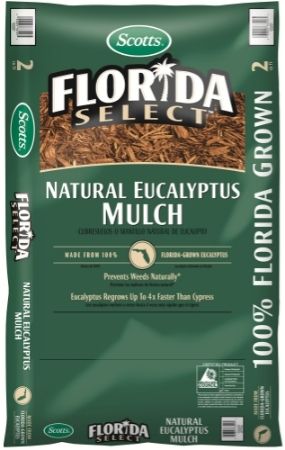 Why is this so significant? Florida Select Mulch is made from 100% Florida grown Eucalyptus. Eucalyptus mulch is a sustainable Cypress alternative, grown in Florida. Eucalyptus mulch is considered a renewable resource because it re-grows up to 4x faster than Cypress. It is also completely 100% naturally made from plantation-grown Eucalyptus trees- meaning it is guaranteed free from any construction, demolition, pallet or other waste materials.
SO! How do you use mulch? If this is your first time, you will want to start with the Scotts Mulch Calculator to ensure you are purchasing enough to effectively cover the area.
HOW TO USE: You will want to spread it 3 inches deep, and be sure to keep it several inches from tree trunks or wood structures.
WHEN TO APPLY: In the Spring season, when the cold has generally ended and definitely before the heat sets in.
WHERE TO USE: Apply around trees, shrubs, flowers or vegetables after seeds have germinated and plants have developed.
WHERE NOT TO USE: Avoid using before seeds have germinated, around underdeveloped plants, and within several inches of house foundations or wood surfaces (to avoid excess moisture to structures).
Who's ready to mulch?! We will be carrying on the tradition of my in laws and will be throwing our own mulch party. Stay tuned for our Mulch Party photos!