24 Jul
Every one always remembers a teacher's gift when school is wrapping up, but what about the teacher's after a chaotic first day back to school? Keeping Life Creative has the right idea to help you help your child's teacher this year. It comes in the form of a free printable (yay!) and the supply list to carry out this thoughtful idea. She calls it, the 1st Day of School Survival Kits.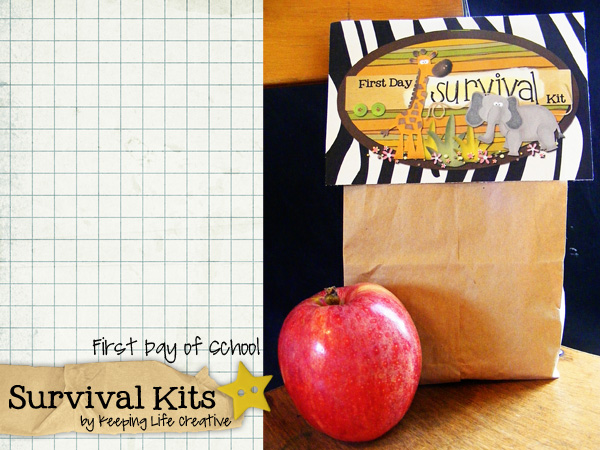 Your supply list: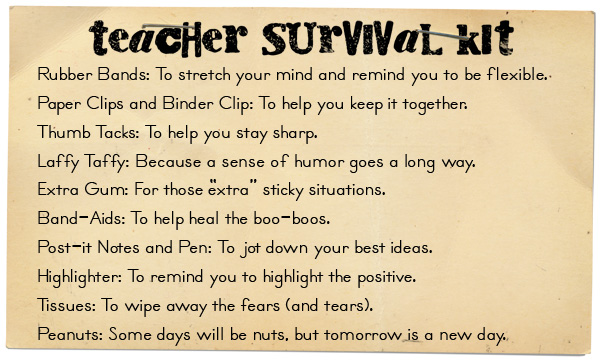 You'll need to round up: Rubber bands, paper clips and binder clips, thumb tacks, laffy taffy, extra gum, band-aids, post it notes and pen, highlighter, tissues, peanuts. Of course there are more things you could add to this. If you think of more clever items to add leave a comment and let me know! I'm gearing up to create this someday when my own kids are in school.
Such a creative idea! It won't cost you a ton, and it won't take much effort to put together (especially because she offers the printable tag she created!). I love that the tag is a safari theme, because you know some class rooms are like entering the wild. I used to be a substitute teacher, I'm sure I've seen some of the worst!